Archive for the 'painting tutorials' Category
Today's interview is with Lisa of the Prim Chick Etsy Shop, a shop full of unique hand painted items. They're unique in that Lisa often paints on gourds and light bulbs! She's also part of a Etsy team giveaway, which ends on November 12th.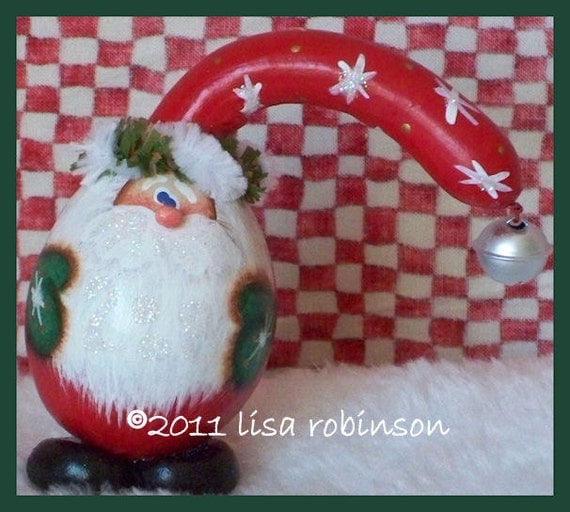 [Photo above:
Hand painted Santa Claus gourd ornament
]
Tell us about your store. What kind of items do you offer?
My store is my creative coop! i have my original hand painted gourds and light bulbs; my extensive line of epatterns to make adorable characters using repurposed light bulbs or gourds; and a few hard to find supplies to use with the patterns!

How long have you had an interest in decorative painting?
I have been a decorative painter since 1985. I wanted to make cloth dolls, but didn't like the button-eyed versions, so i taught myself decorative painting so i could paint CUTE faces on them! (i've never made or sold fabric dolls, yet!)
How did you get started? Did you start by experimenting around, or did you take a class and go from there?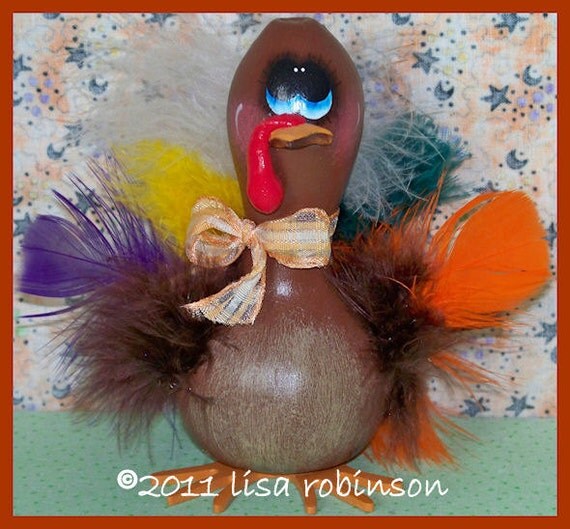 I started out by purchasing painting books and magazines with projects that i thought looked cute — not necessarily easy! I had my dad make wood cut-outs for me, and i "dabbled" with the designs and techniques of other artists. I, like so many others, got frustrated very quickly when "mine didn't look like the one in the book!". So, i went to a plan "B" and i put the books away, and started "designing" my own things – with no one else's to compare it to! To save money while i practiced, I collected all types and sizes of cans, empty vegetable cans, empty square spice cans, empty coffee cans, etc. and painted on them — and i even went to the 2nd hand store and purchased used, plain sweatshirts to teach myself how to paint on fabric! After about 4 months, it was fall, and i decided that i had to sell the stuff that i was painting — if for no other reason that to support my habit — and fast-becoming addiction, so i jumped into selling at a craft show in the Omaha area. I didn't have a display or anything — i used the table that the sponsors provided! I figured that if customers HATED me, i'd go home with a truck full of painted junk — if not — i'd get a pulse on what to do next! I took about 350 – 400 REPURPOSED cans, painted like jackolanterns – and i sold every single one within 2 hours of the show opening! i couldn't believe it! I called my dad, (who had dropped me and my 3 year old son off and stayed long enough to help me set up) and told him i was ready to go — I'll never forget it — he said to me — "DO NOT QUIT! At least stay the rest of the day! You do AMAZING things with people's TRASH and you have to give yourself a chance!" I then explained to him that i had sold everything! He hurried right over to help me count the money! I expanded my "line" to include painted flower pots, but, everything i did had a face! After about 3 small, local shows, i got known as the lady that did "that face".
[Photo above: Hand painted Thanksgiving turkey gourd]
Are there any particular mediums you like working with?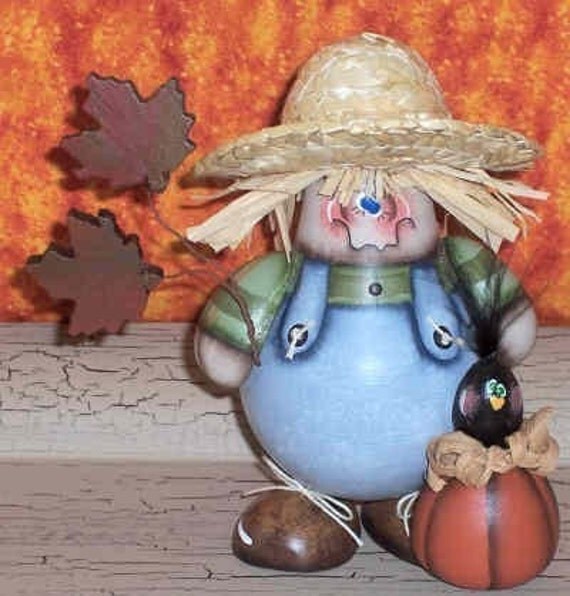 As all artists, through the years i have painted on everything – from trash to treasures, literally! My painting took a turn when i started teaching my style of painting at mangelsen's in omaha. i went from painting wood cut outs to painting promotional items the store wanted to get rid of or items that were more readily available to people that may not have access to a wood cutter. I left teaching and painting when i went to work at the post office. The inner "burn" to paint never went away, but, my time did. In 2005, when we relocated to southeast missouri, i started painting on shipping tags! i was in LOVE! i could do anything on a tag! I was in an online painting forum and shared my work there – and during a "swap supplies" promotion, i was sent a box of GOURDS! i looked at them and said, I HATE painting geese and swans! I didn't have a clue – but, from that day forward, i have LOVED creating with gourds — i also like painting on light bulbs because when we converted our home to the energy efficient bulbs, i had a ton of light bulbs — so, i painted them!
[Photo above: PDF epattern – fall scarecrow on light bulb]
Is there anything you eventually want to get in to and master?
i would like to get more into licensing my art on a much larger scale national or international!
What do you like to do in your spare time?
In my spare time, when i have spare time, i like to travel with my husband; hang out with my kids; and give lovies to our furbaby, Boone, a 5 1/2 year old german shepherd.
What's a question you wish I would've asked? And please answer that question.

What is my FAVORITE thing about designing and selling?
My favorite thing about doing all this is the warm smiles that it brings people! i do give a lot of stuff away — and it's more in the giving and the true appreciation than in the money!
Please include ten fun facts about yourself.
I'm a TEXAN! from amarillo!
My favorite color is PURPLE!
I'm the mother of 4 kids (3 boys and 1 girl; and 2 stepdaughters!) – all grown!
I'm an air force brat; married to an army dude; with 2 army sons recently home from afghanistan! (yes, i'm VERY proud!)
I love CANDY CORN!
I hate spiders, snakes, and bugs!
I collect bears, chickens, and sunflowers!
My favorite TV shows are Hawaii 5-0; Burn Notice; White Collar; and NCIS.
I keep a sketch pad by my bed and wake up and sketch out new designs!
My favorite "anytime" treat is MARSHMALLOWS! yum!
Please list your urls where people can find you.
Prim Chick Etsy Shop
Prim Chick on Facebook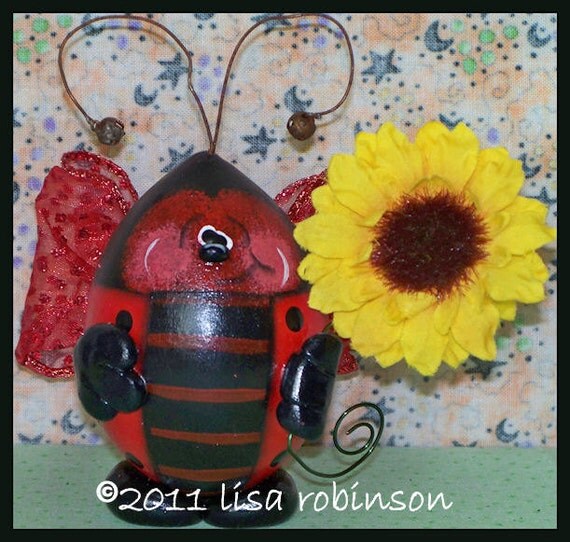 [Photo above:
Hand painted ladybug gourd doll
]
The wonderfully talented Cathy at Tolentreasures has some awesome free painting tutorials: