Archive for the 'diy tutorials' Category
Today's interview is with Sherry of No Minimalist Here Blog. I came across her blog when she posted a much needed and ingenious tutorial on how to make your own chalk paint for only four bucks! Her Etsy shop features lots of vintage, shabby chic, and antique finds.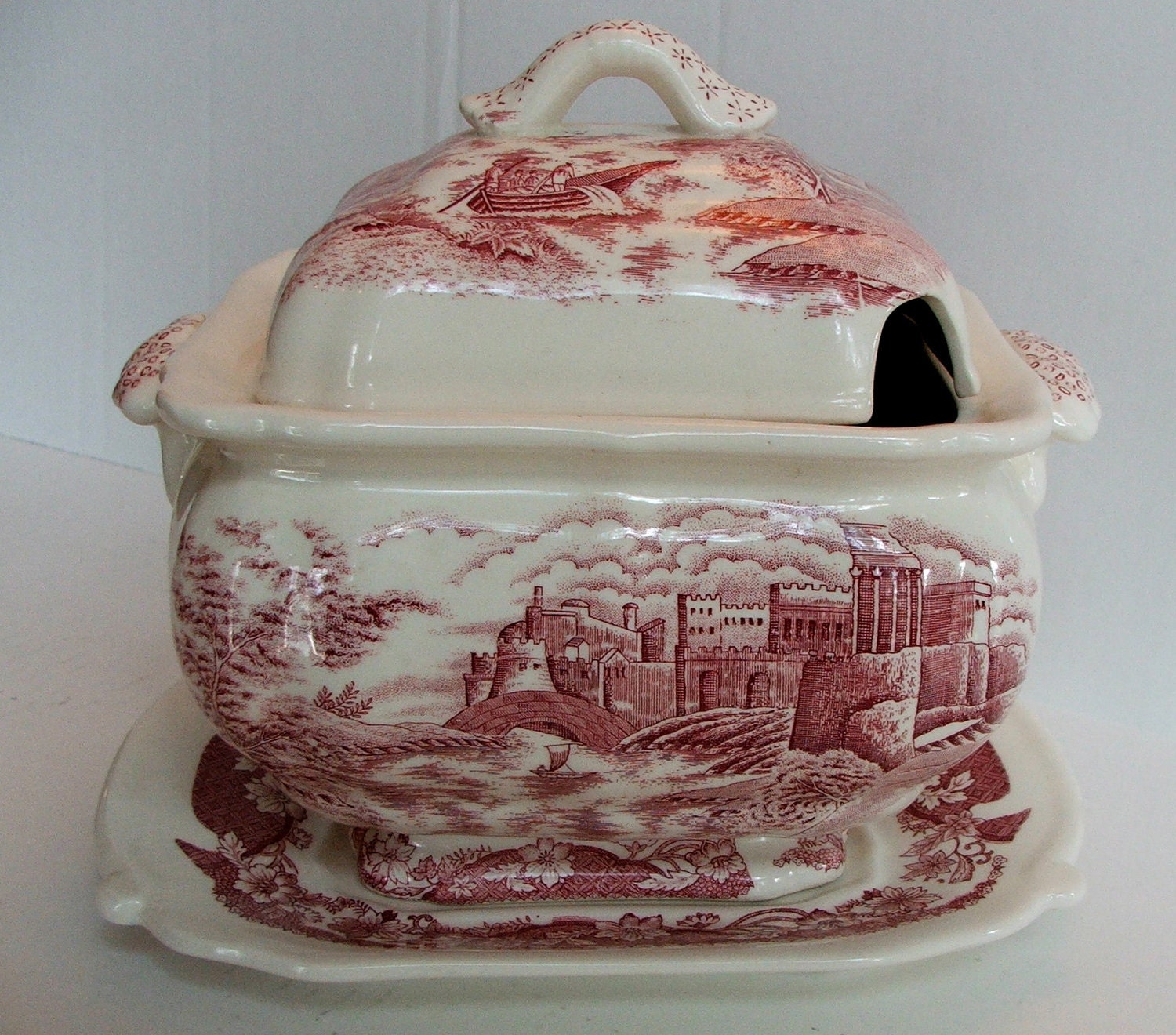 [Photo above:
Vintage red castle transferware tureen
]
Tell us about your store. Where do you find all your great vintage finds?
I recently closed my shop here in Richmond in the anticipation that we would be moving to Florida soon. I do still have an Etsy shop which I sell vintage items. Part of being an antique dealer I enjoy most is the hunt. Many of the items I sell come from auctions, estate sales, garage sales and Craigslist.
How long have you had an interest in vintage decor and antiques?
Pretty much all my life. My Father was an antique dealer and I worked for him during the summers and school breaks. Some of my best memories are us hitting the flea markets and attending auctions looking for the perfect pieces for the shop.
Are there any particular vintage/antique items that are your favorites?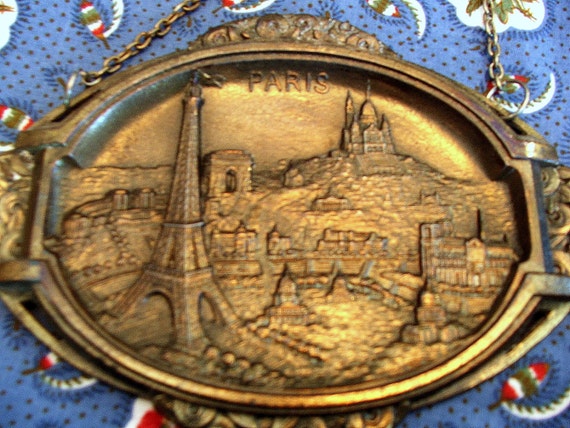 I love transferware, especially the blue and white. I am really drawn to vintage baskets and demijohns. French Country style antiques are a favorite.
[Photo on left: Vintage Paris souvenir plaque]
Are there any particular diy projects you like working on?
I have been experimenting with my version of homemade chalk paint on several furniture pieces. I am planning on expanding my Etsy shop to include some items that I make or transform. Those should be available to purchase in the next few weeks.
What do you like to do in your spare time?
A lot of my spare time is spent reading my favorite blogs, perusing Pinterest and looking at my large collection of decorating books. My husband and I also enjoy traveling, scuba, hiking and golf.
What's a question you wish I would've asked? And please answer that question.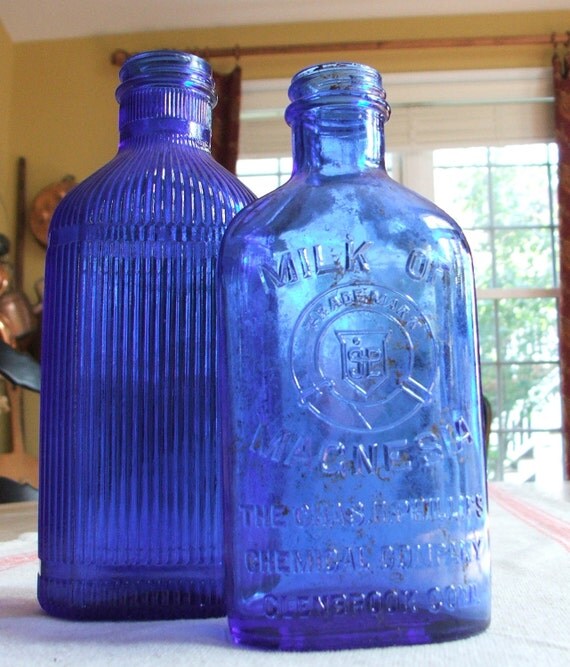 Who is your hero?
My dad is the most creative and talented person I know. He can fix or repair anything! He is now 85 years old and he still has to be working on several projects at a time. He can take a damaged piece of furniture or any decorative object and make it perfect again. Recently he bought a bronze horse figurine that was missing a leg. He rebuilt and painted the leg and you would never know it was not original. When he was 80 years old he added three additional rooms to their home doing all the work himself.
[Photo on left: Azure blue vintage bottles]
Please include ten fun facts about yourself.
I took Ballet, Tap and Jazz five days a week for fifteen years.
I am terrified of sharks yet I scuba dive..looking behind me all the time.
I am thrifty and hardly ever pay full price for anything.
My husband's pet name for me is Buzzard Bait!
There are five of the most adorable children that call me Grandma.
I cannot eat sausage without dipping it in peanut butter…a long story.
Give me chocolate and I am happy.
I received the National Brownie of the Year award at age eight.
I would love to write a book.
Riding horses in the Sahara desert with a view of the ancient pyramids was one of my biggest thrills.
Please list the urls to your website, blog, and/or online shop, social media, etc.
No Minimalist Here Blog
No Minimalist on Etsy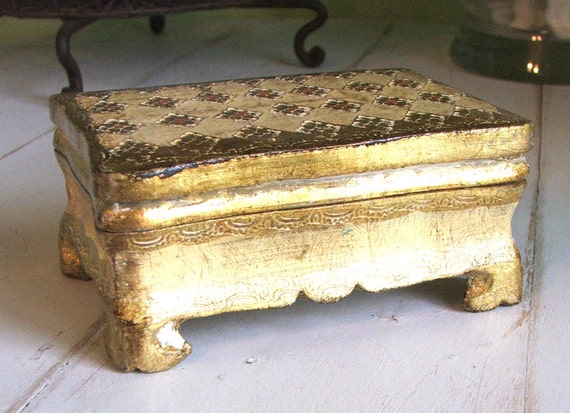 [Photo above:
Vintage Venetian jewelry or vanity box
]
Here are ten crafts and diy tutorials that have caught my eye.
1.
Cross My Heart Art Designs has a great laundry room makeover.
2.
Shaken Together did an adorable upcycled sign.
3.
Charcoal and Crayons made this awesome jute calendar.
4.
Craftberry Bush shows off some pop can charms. I'm soooo going to try this.
5.
Craft Stylish's woven button coasters.
6.
Make your own sisal rope from Under the Table and Dreaming.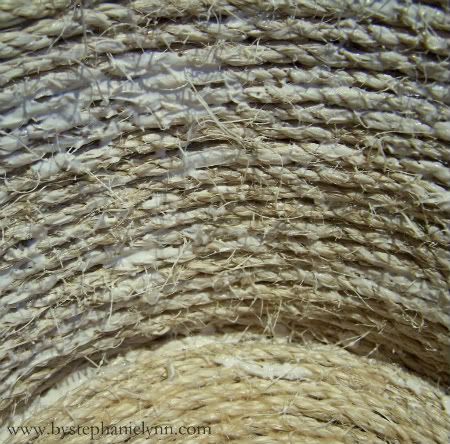 7.
Van Hook and Co. has some unique snowmen that are so cute.
8.
Here's an easy to understand tile coaster tutorial at Blue Print Crafts.
9.
La Vie Vintage Blue's trash to treasure armoire.
10.
Frosted glass anyone? Check out this easy technique from Peas and Crayons.
I'm starting a new feature here featuring awesome craft and DIY tutorials that I find throughout my hours of blog hopping. Hope you enjoy and are inspired by some of these incredible projects.
A little late, but these are adorable Easter Eggs
Gorgeous rustic Easter eggs
Dimensional Magic belt buckles