Archive for the 'diy tutorials' Category
Here's a big list of DIY household cleaning supplies, many of them not containing harsh chemicals. Do it yourself cleaning supplies are usually cheaper and healthier to use!
Disclosure: I have included affiliate links in this post. Read the fine print about this bundle and read the answers to frequently asked questions about the bundle.
So many of my readers are creative DIYers, so I wanted to tell you about this awesome wham bam of a package of do it yourself and crafting ebooks and ecourses! Plus, there's even a free class from Craftsy in the bonus section!
The great thing about crafting and DIY is that there's so much to get involved in! You may have started with decorating, or creating gifts, or photography, but there's this huge world of crafting opportunities out there, and you've probably only scratched the surface!
The only problem is… how do you decide which project to dive into next? Not to mention, it can get expensive so quickly, buying more resources, more books, more patterns. What if you had a wide variety of inspiring resources right at your fingertips, but for a fraction of what you would usually spend?
That's why you need to check out The Ultimate DIY Bundle! It's your instant go-to library for a whole range of carefully curated DIY and crafting eBooks and eCourses. There are projects that the whole family can get involved in – from pet photography and home decor to chalk pastels and sewing.
For the crazy low price of just $34.95, you get access to a carefully curated library of over 76 eBooks and eCourses from the world's leading DIY and crafting bloggers – enabling you to pick a project and jump straight into it with confidence. It's the perfect tool to skip the information overload and throw yourself straight into a new activity.
Hurry though! The Ultimate DIY Bundle will only be on sale for 6 days – from 8am EST on Wednesday, January 21 until 11.59pm EST on Monday, January 26.
You can buy with complete confidence because you're covered by the Ultimate Bundles 30-day money-back guarantee. That means you have a full 30 days to enjoy all the eBooks and eCourses in the bundle, and if you don't think they provided enough value, you'll get a full refund.
Not only that, but The Ultimate DIY Bundle comes with 4 awesome bonuses, worth over $118. That's 3x the price of the bundle alone! These include…
A free $15 Store Credit PLUS 8×10 Art Print from Hope Ink ($43 Value), a free online class from Craftsy (up to $60 Value), free $15 store credit to Fawnsberg.com, a free sewing pattern PLUS a Premium Video Class from UpCraft Club ($19.99 Value), and free, full digital copies of Where Women Create Magazine and Greencraft Magazine ($20 value) from Stampington and Co.
So, don't miss your chance to grab The Ultimate DIY Bundle, and get 76 incredible eBooks and eCourses for just $34.95. All you need to do is take action by midnight on Monday, January 26!
This amazing deal ends in just…

Pick up your copy right now, before it's too late. Or, learn more here.
Today's interview is with Sherry of No Minimalist Here Blog. I came across her blog when she posted a much needed and ingenious tutorial on how to make your own chalk paint for only four bucks! Her Etsy shop features lots of vintage, shabby chic, and antique finds.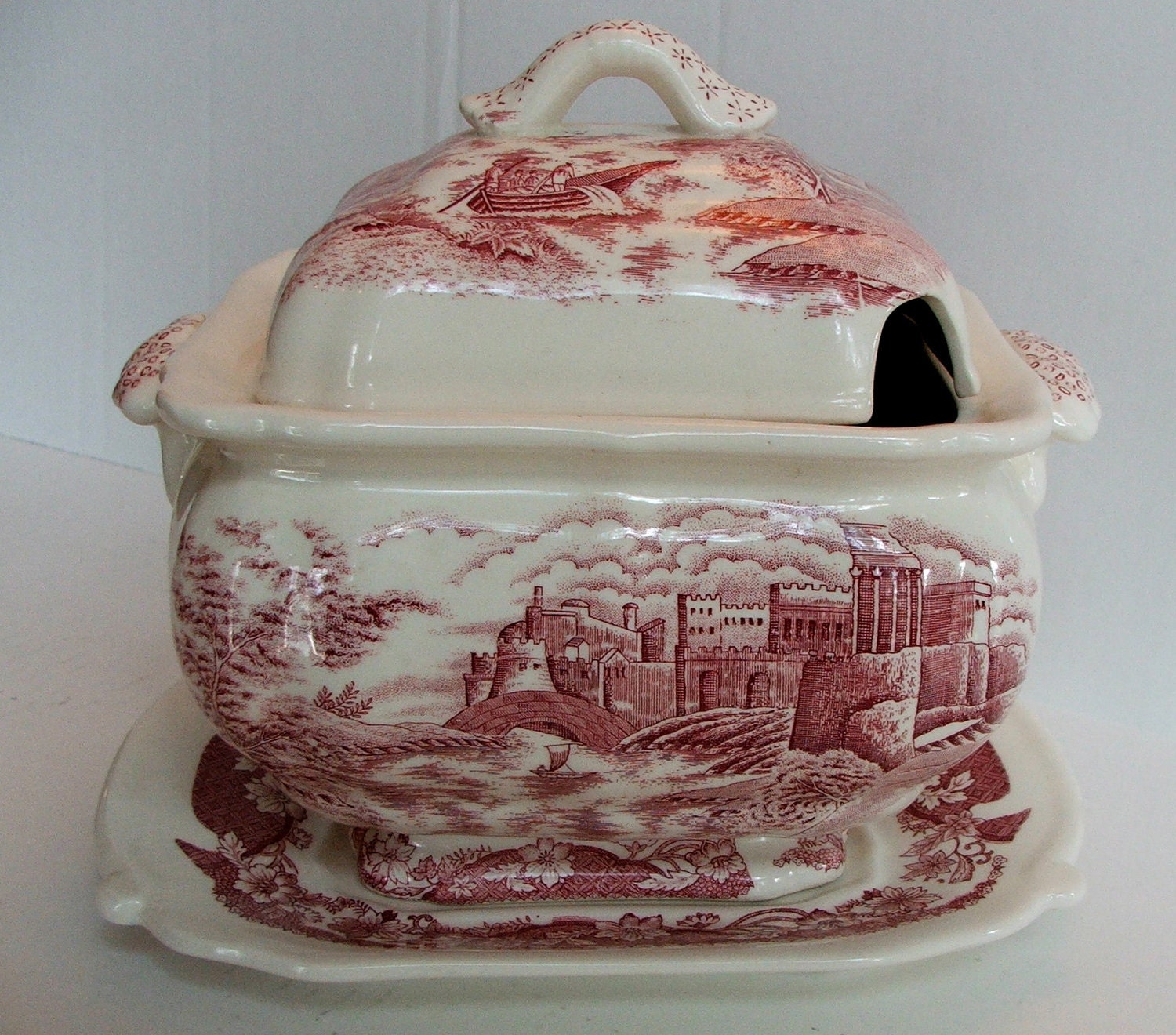 [Photo above:
Vintage red castle transferware tureen
]
Tell us about your store. Where do you find all your great vintage finds?
I recently closed my shop here in Richmond in the anticipation that we would be moving to Florida soon. I do still have an Etsy shop which I sell vintage items. Part of being an antique dealer I enjoy most is the hunt. Many of the items I sell come from auctions, estate sales, garage sales and Craigslist.
How long have you had an interest in vintage decor and antiques?
Pretty much all my life. My Father was an antique dealer and I worked for him during the summers and school breaks. Some of my best memories are us hitting the flea markets and attending auctions looking for the perfect pieces for the shop.
Are there any particular vintage/antique items that are your favorites?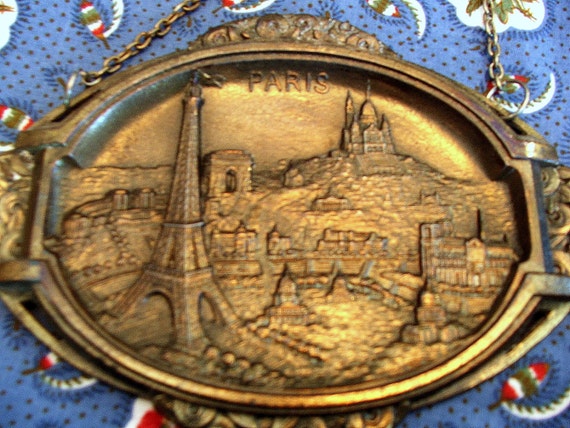 I love transferware, especially the blue and white. I am really drawn to vintage baskets and demijohns. French Country style antiques are a favorite.
[Photo on left: Vintage Paris souvenir plaque]
Are there any particular diy projects you like working on?
I have been experimenting with my version of homemade chalk paint on several furniture pieces. I am planning on expanding my Etsy shop to include some items that I make or transform. Those should be available to purchase in the next few weeks.
What do you like to do in your spare time?
A lot of my spare time is spent reading my favorite blogs, perusing Pinterest and looking at my large collection of decorating books. My husband and I also enjoy traveling, scuba, hiking and golf.
What's a question you wish I would've asked? And please answer that question.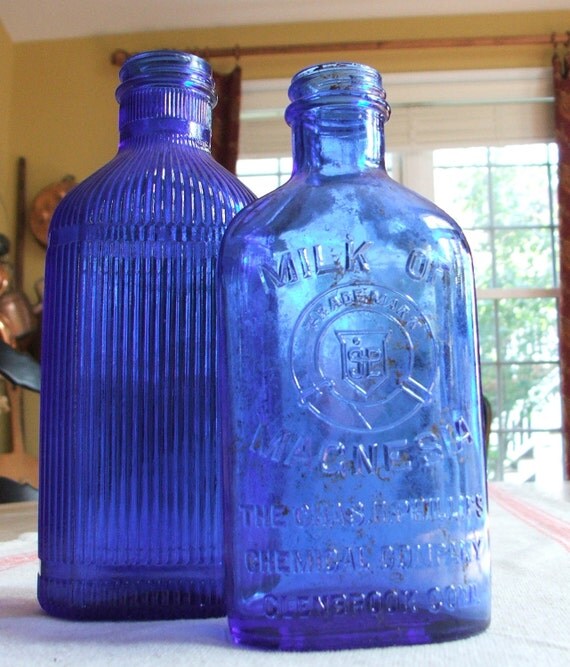 Who is your hero?
My dad is the most creative and talented person I know. He can fix or repair anything! He is now 85 years old and he still has to be working on several projects at a time. He can take a damaged piece of furniture or any decorative object and make it perfect again. Recently he bought a bronze horse figurine that was missing a leg. He rebuilt and painted the leg and you would never know it was not original. When he was 80 years old he added three additional rooms to their home doing all the work himself.
[Photo on left: Azure blue vintage bottles]
Please include ten fun facts about yourself.
I took Ballet, Tap and Jazz five days a week for fifteen years.
I am terrified of sharks yet I scuba dive..looking behind me all the time.
I am thrifty and hardly ever pay full price for anything.
My husband's pet name for me is Buzzard Bait!
There are five of the most adorable children that call me Grandma.
I cannot eat sausage without dipping it in peanut butter…a long story.
Give me chocolate and I am happy.
I received the National Brownie of the Year award at age eight.
I would love to write a book.
Riding horses in the Sahara desert with a view of the ancient pyramids was one of my biggest thrills.
Please list the urls to your website, blog, and/or online shop, social media, etc.
No Minimalist Here Blog
No Minimalist on Etsy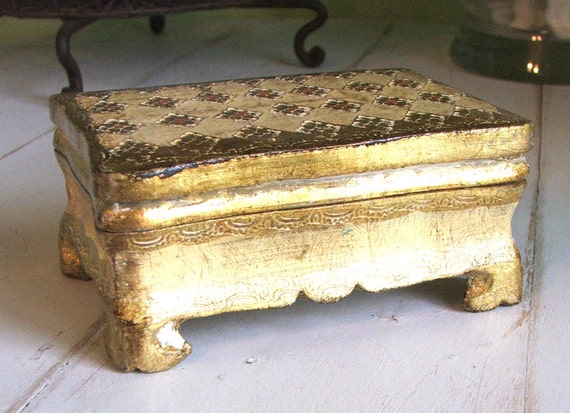 [Photo above:
Vintage Venetian jewelry or vanity box
]
Here are ten crafts and diy tutorials that have caught my eye.
1.
Cross My Heart Art Designs has a great laundry room makeover.
2.
Shaken Together did an adorable upcycled sign.
3.
Charcoal and Crayons made this awesome jute calendar.
4.
Craftberry Bush shows off some pop can charms. I'm soooo going to try this.
5.
Craft Stylish's woven button coasters.
6.
Make your own sisal rope from Under the Table and Dreaming.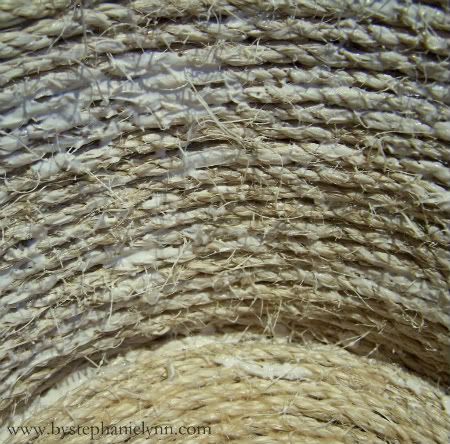 7.
Van Hook and Co. has some unique snowmen that are so cute.
8.
Here's an easy to understand tile coaster tutorial at Blue Print Crafts.
9.
La Vie Vintage Blue's trash to treasure armoire.
10.
Frosted glass anyone? Check out this easy technique from Peas and Crayons.
I'm starting a new feature here featuring awesome craft and DIY tutorials that I find throughout my hours of blog hopping. Hope you enjoy and are inspired by some of these incredible projects.
A little late, but these are adorable Easter Eggs
Gorgeous rustic Easter eggs
Dimensional Magic belt buckles