Archive for March, 2012
Today's interview is with Adriana Willsie, whose Etsy shop if filled with beautiful pet portraits! If you're an animal lover, you'll love her portraits. She even has some cute silhouette pillows of dogs and cats.
[Photo above:
Custom Dog Portrait
]
Tell us about your store. What kind of items do you offer?
I'm a commission-based artist who primarily does custom pet portraits! I also sell pet silhouette throw pillows on my Etsy shop.
How long have you had an interest in painting?
I'd been painting casually since 2008, but I only started selling my work at the end of 2010. I'm on the new side when it comes to being a professional!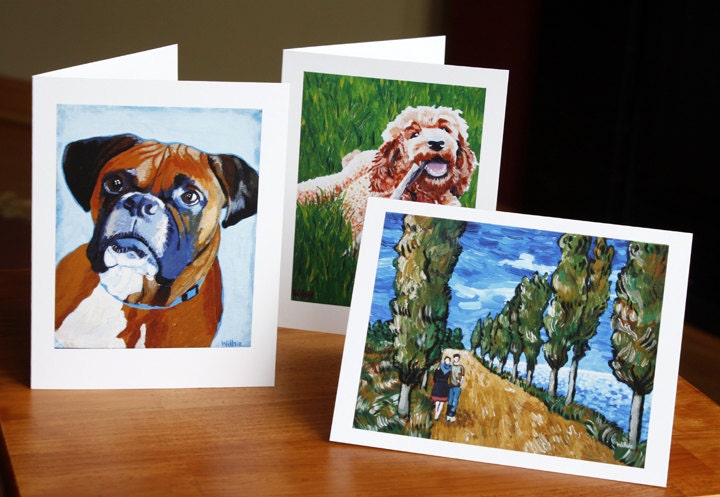 How did you get started? Did you start by experimenting around, or did you take a class and go from there?
It's kind of a funny story, actually. In 2008, my boyfriend gave me a big set of paints and brushes as a holiday present. He was somehow under the impression that I'd been a painter all my life. To this day, I have no idea how he got that notion into his head. In reality, I'd never painted a thing. But I didn't want to embarrass him, so I figured that I might as well give painting a shot. One night after dinner, I took out my set, and started working on a portrait of my boyfriend. And I didn't put my brushes down until I finished the painting at 4:00 am — I was totally hooked! Since then, I've done a lot of experimenting, reading, and observing as I develop my own personal style.
[Photo above: Note cards of your custom painting]
Are there any particular mediums you like working with?
All of the work on my website is done in heavy body acrylics. I love how quickly acrylics dry, and how you can put down layer upon layer. This is the technique I use to give fur a lot of depth.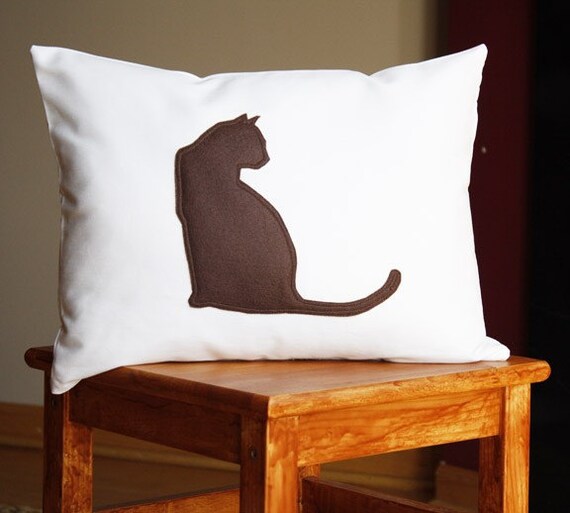 Is there anything you eventually want to get in to and master?
How I would love to experiment with some oils! But I'm a little intimidated by all the harsh chemicals, so I want to take a class on how to use them safely and properly before I dive in on my own.
[Photo on left: Silhouette cat throw pillow]
What do you like to do in your spare time?
I like to cook and get out in the fresh air. I live in downtown Chicago, so during the warmer months I love to go to all the live concerts and festivals. And if there's a craft show in town, you'll definitely find me there spending my whole life's savings…
What's a question you wish I would've asked? And please answer that question.

Q: Of all the types of painting, why do you paint pet portraits?
A: I paint pet portraits by commission because I've discovered that it's a tremendously wonderful way to connect with people. We get to talk about your pet, his quirks and personality traits, his favorite toys, the way he tilts his head when he watches you eat something particularly delicious. And then I take what I've learned and produce a painting that has personal significance to you. I love seeing people connect to my work in a deeply individual way. It keeps me going!
Please include ten fun facts about yourself.
I hoard paint color swatches from home depot. I can't help it, look at all the colors!
My nickname in college was "A-slice."
My favorite class of all time was Astrophysics.
When I was young, I sewed clothes for all the elves I was convinced lived in my back yard.
I'll eat anything with coconut on it.
My favorite book is Love in the Time of Cholera. After Harry Potter, of course.
All my jeans have paint on them.
My two thumbs are completely different shapes.
After college, I went to and then graduated from culinary school. Pretty much on a whim.
In my 26 years, I've lived in Washington, New Jersey, Missouri, Massachusetts and Illinois. And now I'm moving to Wisconsin in a few months!
Please list the urls to your website, blog, and/or online shop, social media, etc.
Adriana Willsie website
Adriana Willsie Etsy shop
Adriana Willsie on Twitter
Adriana Willsie Art on Facebook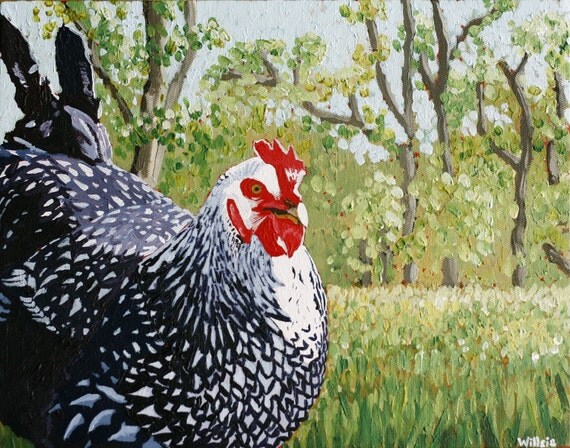 [Photo above:
Custom 11×14 pet portrait
]
Vicki took me up on my recent offer of social media marketing. What fun that my first social media client was one of my friends, too! So let me introduce you to this amazing bear maker, but I'll mostly let her handiwork do the "talking," which includes a wide variety of teddy bears!
Something new Vicki just tried: embroidered roses paw pads
10″ Meeko, Artist Mohair Teddy Bear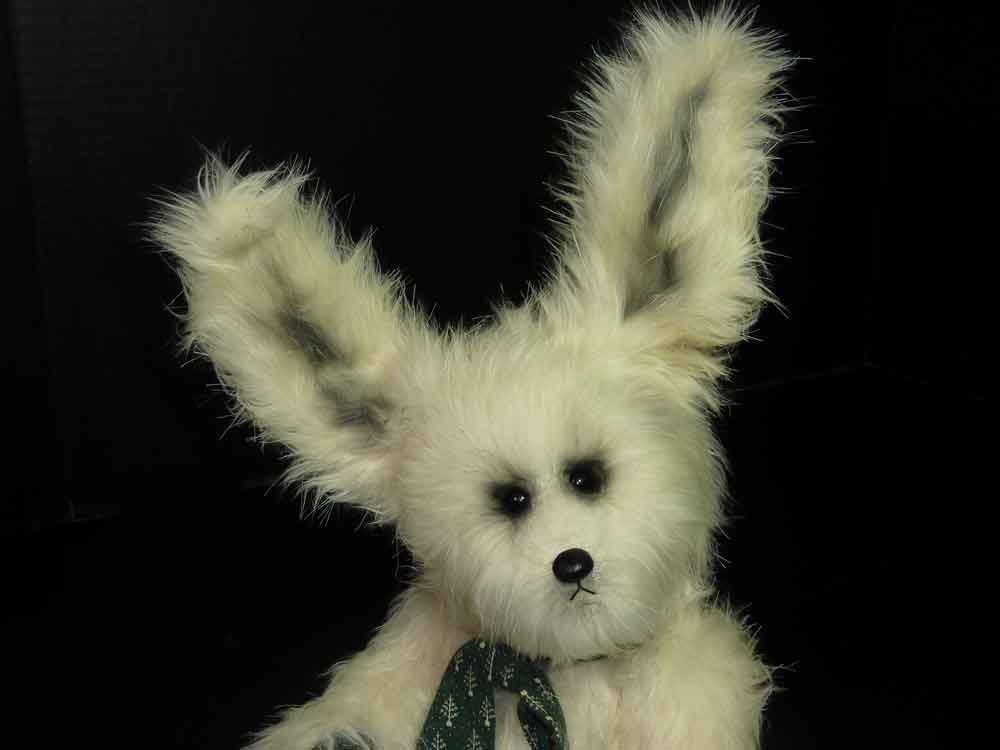 Perfect for Easter: Bunny Rabbit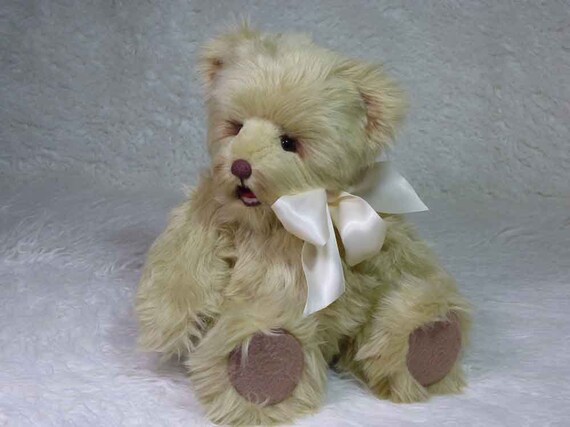 Roar! Open mouthed bear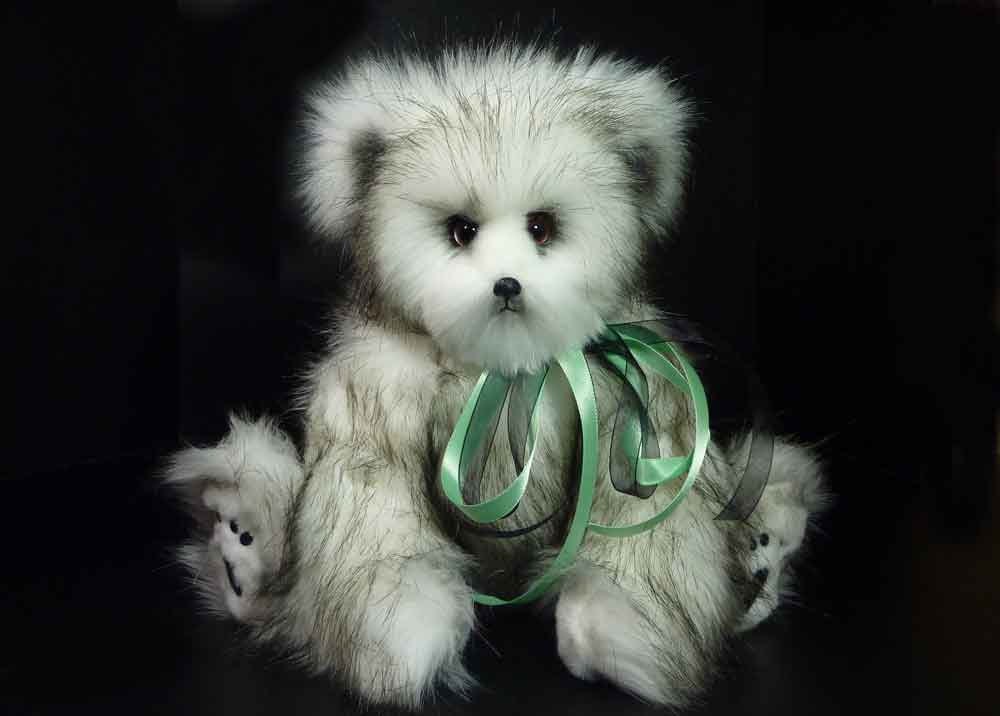 16 Inch Jeffrey, Artist Plush Teddy Bear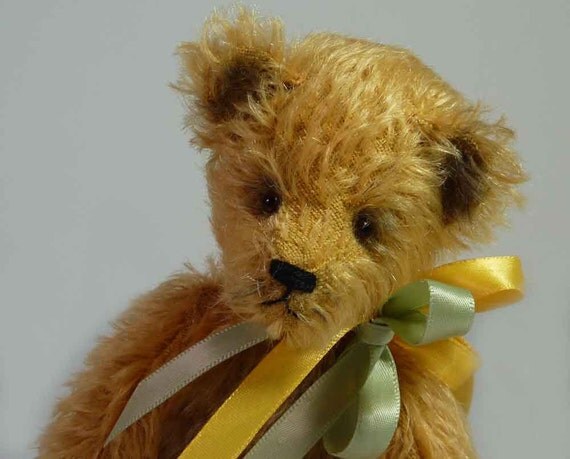 Little Apricot, 8 Inch Artist Mohair Teddy Bear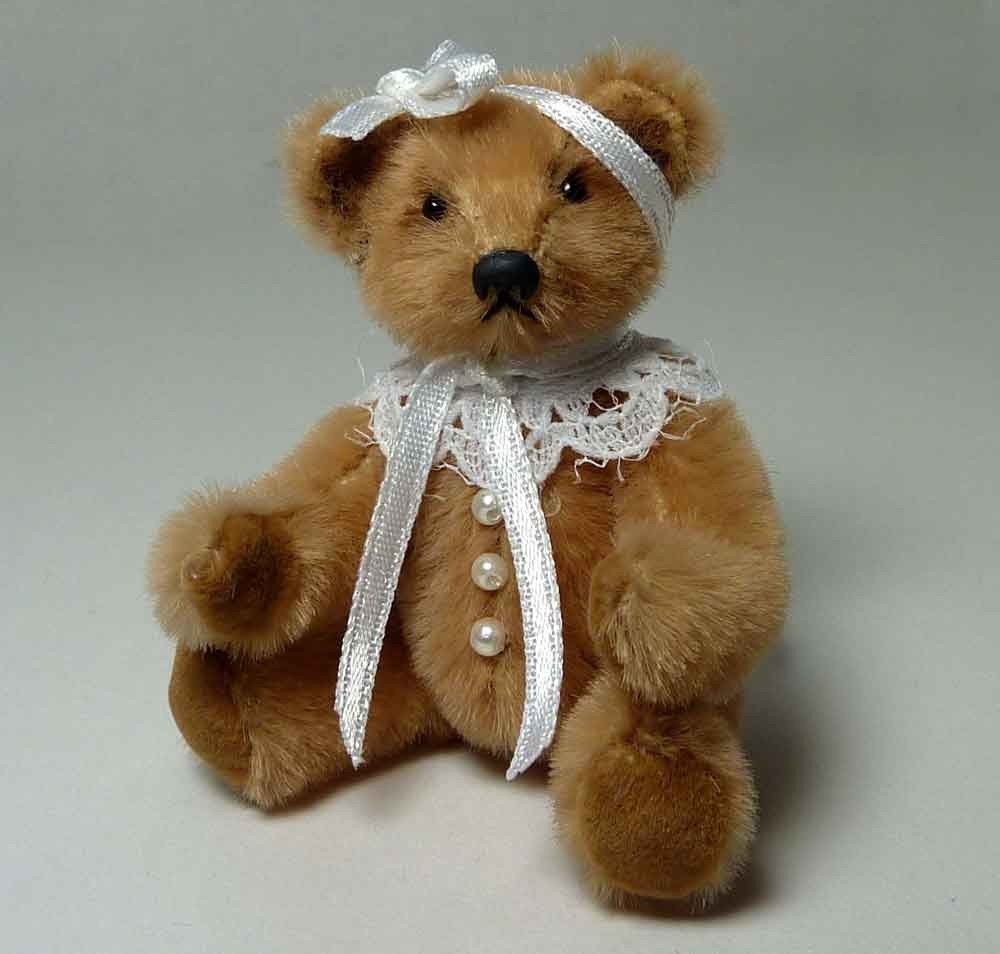 Miniature Teddy Bear – only 3 inches tall!
I also purchased a bear from Vicki, and you can read my review of little Kenneth McAlpin here. To read about Vicki, please see my interview on one of my other blogs.
Soooo…yeah…this blog is changing cuz I'm changing.
I know most readers have gone away, and that's quite all right. Geez, you came here for recipes, crafts, and interviews of artisans, and all of a sudden, I'm talking about entrepreneurial stuff, and now…spiritual stuff. Hmmmm….
Those will eventually continue. There haven't been any interviews because no one has returned my questions, and I haven't had the time to email others and ask if they'd like to be interviewed. That takes a lot of time, especially when 60% don't respond, and of those who do, about 75% of those don't return their answers.
I'll do more recipes, but w/o a regular frig, it's hard to make any goodies, cuz what I usually make needs to be refrigerated. And the crafts…well…I haven't felt crafty for several months now due to my attention being elsewhere. But recipes, crafts, and interviews will be featured on here when they come back into my life.
Anyhoo, 2012 is a great shift for many of us. I don't believe it's the end of the world – at least it certainly isn't for me.
I'm sure for many who are prone to see the end of the world and negativity all around, the world will end for them.
During my self-directed entrepreneurial education, I've come across a lot of spiritual thinking. It got me back to thinking about such things, and it brought me back to my purpose in life – that of ennobling others. I purchased a domain to start doing that, but I don't want to spend the money right now on purchasing hosting for it just yet. So I thought why not put my ramblings on this blog, so I am.
Who knows, it may inspire someone onto their own path.
I listened to an amazing speaker today: Debra Poneman. Wow! The audio is up – for free – until Sunday, midnight Eastern. Don't judge by the weird woo woo psychic network chintzy looking header. The audio is really quite good. Here are my notes.
When you want something, you push it away. Gratitude is about expansion, whereas wanting is a contraction. You want expansion – expanding so that universe can pour more in. For example, instead of wanting to fill the room at her first talk, she visualized beautiful smiling faces and joy, instead of standing room only. So visualize the joy whatever you want will bring; doing this moves things into higher vibration. Don't focus on the wanting, because that is showing lack in your life. Longing contracts; abundance and appreciation expands.
An idea comes when it's ready to be manifested, so if you don't act on it, it'll move on to someone else. Listen to those impulses; when an idea comes, it wants to be manifested by you. Act on it; don't wait til you think you're ready, cuz you'll never feel you'll be ready.
Teddy Roosevelt: "In any moment of decision, the best thing you can do is the right thing, the next best thing is the wrong thing, and the worst thing you can do is nothing."
In the morning, she writes "Dear God: what are you and I going to create today?" write it down and let the words flow. don't censor, trust it and act on it
She mentioned a book (though, unfortunately, she didn't mention the title) about a guy who dies, and the being of light asks if he'd like to see the highlights of his life. He did, but it was a short reel, showing when he danced with his daughter at her wedding, helping his son learn how to swing a baseball bat, and a couple other things. He asked what about the time he opened up the factory, won the award, etc.? The being of light said "Those acts glorified you."
Then he was shown a long highlight reel of someone he knew well – his cleaning woman. It showed her carrying a pot of soup to a sick friend, cradling her child when her child was sad, hugging friends, etc. The being of light said: "When you get here, you find out that the only thing that matters while you're on earth is how much love you give."
You get what you are, not what you want!
Ask yourself in the morning: "How can I serve and love today?"
I can't stress enough how information packed this event is: Suzanne Evans RAW. I've purchased one of her programs, and she really delivers, but wow, she really does so in this free telesummit. She's having a second encore of it, and it'll be held Saturday at 12 noon Eastern time. I really can't stress enough how much value she gives the entrepreneur in these 3 hours. I urge you to watch if you're at all interested in starting your own business, or need a kick start in your current one.
Another person who gives lots of great advice in her free videos is Ali Brown. She's having another great free call on March 15th.
Well, hells bells! Last post I mentioned working with a couple people and lo and behold, a new person contacted me yesterday. I had sent out a few emails to people whom I consider my ideal client: 6 or 7 figure life coaches. Fortuitously, she needed some work done, so she contacted me!
But I tell ya, I thought I had worked thru my issues of low self worth, but as David Naegle said, that past gunk will creep up on you and try to hold you back. And it did. A simple project that should've only taken 20 minutes took 90 minutes yesterday, and I still wasn't pleased with it. Then I took the longest I've ever taken to write a blog post…and all through tears and wanting to give up. I just didn't want to succeed…well…correction, those old patterns instilled since childhood didn't want me to succeed.
In David's video, he said something about that old gunk trying to hold you back by yelling at you through your mother…barking at you through your dog, etc. Yep, Tessa was breaking my concentration today, and it was in one of those moments when I just couldn't see my way out of finishing this project. Silly, really, when it was a simple blog post.
Then I did some of the spiritual work I've found out through the various seminars that I've listened to lately. Finally gritted my teeth and got 'er done. Sent it off, mostly pleased with the result. I was also proud of myself for not quitting and for having a break through and not continuing the pattern of a break down. ("waah waah, I can't do it").
Welllll….Whoot! She is hiring me for weekly blog posts and press releases, and I will literally almost double my income with this work.
!!!!!!!!!!!!!!!!!!!!!!!!!!!!!!!!!!!!!!!!!!!!!!!!!!!!!!!!!!!!!!!!!!!!!!!!!!!!!!!!!!
And she said she has a large community that she wants to refer me to!!!!!!!!
I have to give her a discount on price, of course, since she's ordering a package deal. The conundrum is making the deal as attractive as possible, but still honoring my talent. Ugh, I hate the money dance…but I need to learn it.
Whoot! Can y'all hear my whooping and hollering over here. I think we'll order pizza tomorrow – hehe!
Geez, like Napoleon Hill said, once it starts flowing, it'll flow so fast, you'll wonder where it's been all this time! I'll soon have to hire another copywriter – hehe!
When dreams are about to come true, if you're like me, you start to hyperventilate – lol! If you've been following this blog, I've gone in the direction of taking hours upon hours of free webinars and teleseminars about being an entrepreneur. This led to a lot of classes on positive thinking and, dare I say, the Law of Attraction. Me and the LoA had a bad and painful break up in the past. After seeing "The Secret," I lived and breathed the LoA. I even wrote for a multi-millionaire's blog about LoA, so I was well versed in it. The thing is, none of the literature at the time stressed actually doing anything. The movie sure didn't, and I later found out that was a common criticism. Anyway, the LoA did absolutely nothing for me but give me a broken heart.
But diving into the entrepreneur mindset led to the LoA and manifesting in a whole new way. They said you have to DO instead of just navel gaze and wish for a better life. So I've been doing, i.e., I've been taking action steps towards my goals.
Well, as the Universe would have it, I got a free coaching call from one of David Neagle's coaches a month ago. That got me fine tuning what I wanted to offer, which led to my new business website. During one of the teleseminars I listened to recently, we got to fill out a survey, and since I was one of the first 30 to respond, I got another free coaching call with a different person.
Oh my!
We hit it off, and she helped me as had the first coach. I couldn't afford her services, but I knew that when I could, I would hire her. Well…she loves "connecting the dots," and this week she referred me to someone who is in need of a copywriter. We haven't been able to connect the past couple days cuz she's been super busy, but I have no doubt I'll be writing for her. In the meantime, the coach has a ton of writing work for me and wondered if I would exchange my services for her services. Would I!?! Oh heck yeah! The course I wanted to take from her costs several thousand dollars, so of course I would. I'm feeling so blessed, and she's feeling the same! It's so wonderful when you can connect with someone and help them out and vice versa.
Anyhoo, she's in touch with a huge group of coaches, and she's referring me to them. Oh my…many of those coaches may need a copywriter, marketer, and/or social media manager, too! My coach (cuz I'll refer to her as that now since she'll be coaching me – hehe) said I might get too busy for her. Ohhhh, no way! I'll always have time for her.
Anyway, I have to admit to some panicky feelings cuz my dreams are on the verge of coming true. I'm going to have a lucrative career very soon, and I'm sooo excited. But I'm a bit nervous and scared since I've had to live very small and unnoticeable growing up so my mother wouldn't verbally assault me. Then with the ex and having to run for our (my son and my) lives, I had to be as unnoticeable as possible. The past couple years, though, I've decided to no longer live in fear, but some of that ol' gunk comes forward and that's probably why I've got the heebeejeebees, but in an excited I-can't-believe-this-is-happening kind of way. Fortunately, my coach also works on eliminating negative gunk from the past, so I'm sure I'll need it.
Sigh…
Life is great!
And what's also helping me is a free program I got from Louise Hay that I totally recommend. It's all about gratitude and positive thinking. Wow! I'm also enrolled in a wonderful, peace and love filled course with Neale Donald Walsch. It's a spiritual course, not religious, the latter of which would totally turn me off.
Anyway, it's all unfolding so beautifully, and I have to catch my breath sometimes, but I'm not waiting for the other shoe to drop and feeling like it'll end. This great second half of my life is finally happening. Whoot! And all becuz I got my actions aligned with my thoughts. That, and giving monetarily to those in need. So give of yourself in whatever way you can because life will look and feel a whole lot brighter!
(By the way, someone gave us a sofa last weekend, too. Yay!)
The Screaming Good Entrepreneurs ezine has been moved to my other blog. Catch the Your Ideal Client issue over there!