I know I usually do my artisan interviews on Mondays and Thursdays, but I decided to make this day a special one featuring a special artist. Why is today special? Because it's the first of October! (Geez, can ya believe it's October already!?!) I wanted to do a month long Halloween link party, but due to my hopefully upcoming move, I don't have the time. I do want to make October Halloween-y around here, so I'll try to feature a lot of artisans who make wonderful Halloween inspired creations. And what better artisan than sUz! I've admired her work ever since I first saw her Surprise Delight Joy Blog. Soooo…without further ado, here's Suz from Surprise Delight Joy! Make sure you check out her shop, as she offers more than just Halloween themed handmade items.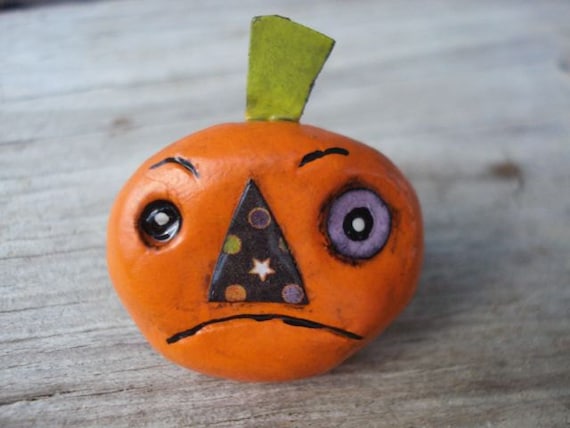 [Photo above:
fuNky fRoWniNg haLLowEen jaCk-O-laNteRn pUmpKin riNg
]
Tell us about your store. What kind of items do you offer?
My store offers one of a kind funky mixed media creations. My characters are quirky and I love color! I use papier mache, paper clay, collage papers, ink, and acrylics but am always trying to see what else I can use. There is a strong focus on Halloween and soon Christmas – thee absolute best holidays to unleash the imagination. I enjoy making baubles – funky earrings, pendants, and rings. You'll see nightlights, ornaments, small format mixed media art collages and primitive dolls from time to time.
How long have you had an interest in working with paper clay, etc.?
I'm always inspired by other artists. I noticed a few years back some of my favorites started playing with it. So I got over my hang ups and in the past couple of years I've started using paper clay and polymer clay. I wanted to give my two dimensional characters some depth, so I mixed papier mache pieces with the clay to give them more life.
How did you get started? Did you start by experimenting around, or did you take a class and go from there?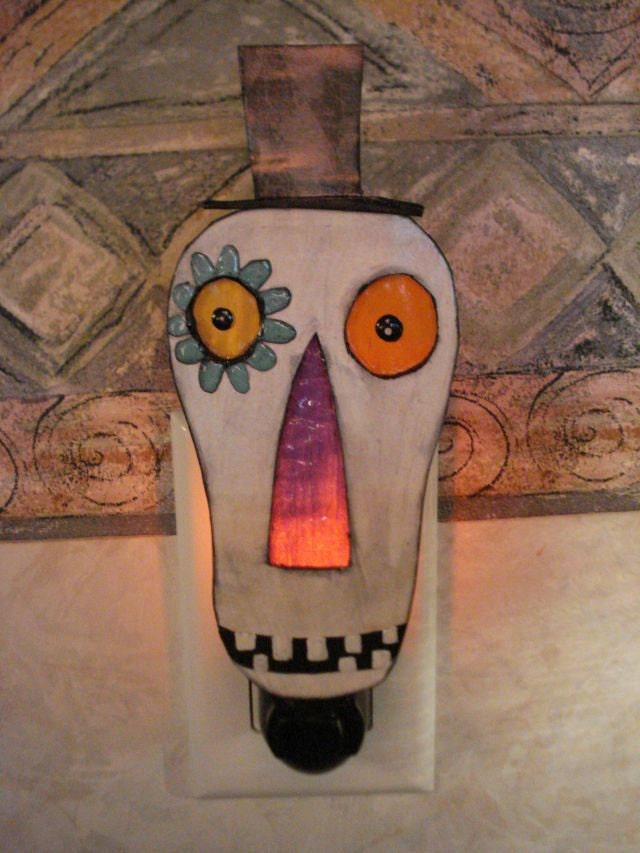 In my late teens and early twenties I had the good fortune of working with an amazing woman who helped nurture and channel my creative energies. She suggested papier mache. So for several years I made my own paste and used newspaper, wire, and cardboard, to create medium to large flowers, animals, hats, snowmen, and fun Halloween pieces. After working fulltime and cramming to get things made for local craft shows, I just burned out. So in my early thirties and after some, okay a lot, of personal craziness, my mentor showed me some techniques with inks and papers and opened me up to the world of mixed media. In the fall of 2006, I joined etsy and in the winter of 2007 was excitedly pregnant with my first and only child. He arrived almost a year to the date of opening my etsy shop. After he was born, I squeezed in time anywhere I could to make things. Now at age 37, I feel like I'm becoming more comfortable with what I'm making and with myself. In a way, my creative life and my son parallel each other. I draw so much inspiration from his being.
[Photo above: fUnKy tOp hAt sKeLLy haLLowEen dAy of the deAd niGhtLiGht]
Are there any particular mediums you like working with?
Paper. There is so much that can be done with it! Cut, glue, mash, shape, bend, fold, tear…
Is there anything you eventually want to get in to and master?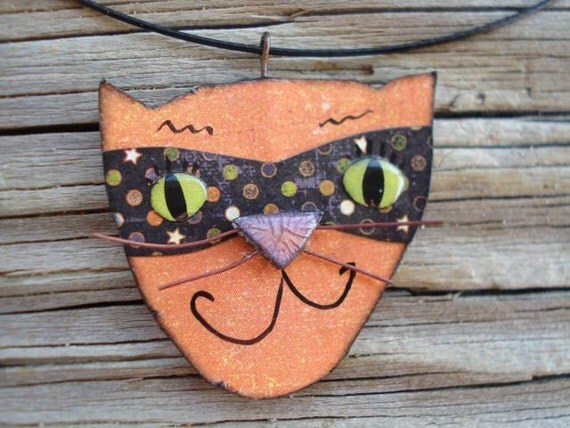 Art basics and techniques like drawing and painting. Maybe some graphic design. I have no formal skills or knowledge. I know just enough to be dangerous.
[Photo on left: haLLowEen mAsKed bAnDit cAt peNdaNt neCkLace]
What do you like to do in your spare time?
Hee hee! I'm lucky to get a shower. Once my little four year old is in bed I have about two hours before I need to be in bed. I really just like to make things and I usually have some bravo tv show on or the food network. When my husband is home sometimes I'm able to get a little more creating done.
What's a question you wish I would've asked? And please answer that question.
What are your hopes and dreams for the future?
Creating a line of paper for my favorite paper companies, seeing my characters on kids shirts and pajamas, and becoming more accepting of myself.
Please include ten fun facts about yourself.
I love vw buses. I really, really need one.
I love listening to the grateful dead.
I like watching phineas and ferb with my son.
I love otters, especially sea otters. They have tons of fun!
I live fulltime in an rv.
I love candy, especially willie wonka bottle caps.
I curse like a longshoreman.
I love diet dr. pepper
I am red haired and freckled.
I'm addicted to Pinterest.com.
Please list the urls to your website, blog, and/or online shop, social media, etc.
Surprise Delight Joy on Etsy
Surprise Delight Joy Blog
Surprise Delight Joy on Facebook
sRPrSdLgHtjOy on Twitter
Giveaway
You'll be delighted to know that Suz is offering a giveaway to her shop, which includes more than just Halloween themed items. Winner may pick out ONE item of the winner's choosing valued at $20 or less; Suz will pay the shipping costs. Giveaway is open Worldwide. Deadline is October 8th at 11:59 pm, Central US Time. To enter, be a follower of Surprise Delight Joy Blog and this blog, Screaming Sardine. For extra entries, like Surprise Delight Joy on Facebook, tweet, and/or blog about the giveaway.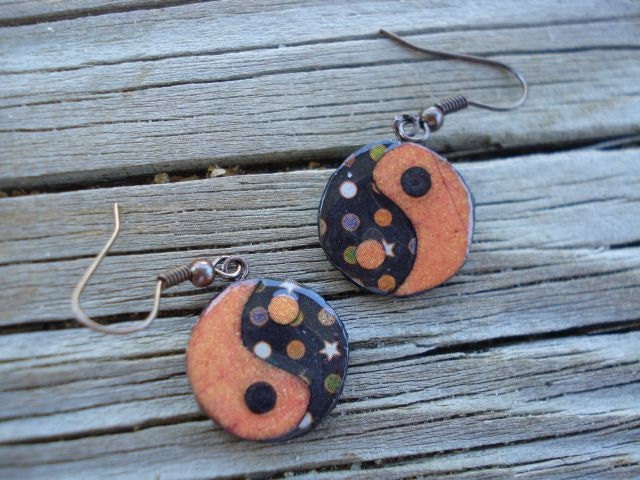 [Photo above:
haLLowEen yiNg yaNg eArRiNgs oraNge and bLaCk pOLka dOts
]